Products You May Like
Guided workouts are more accessible than ever thanks to the mountain of streaming platforms available these days, serving up everything from cycling and Pilates to twerking fitness classes. But app fatigue is real, and if you can't stand the idea of setting up (or paying for) another online account, there's fantastic news: Nike Training Club is coming to a platform you probably have already, Netflix.
Starting Dec. 30, you'll be able to stream a whopping 90+ different Netflix Training Club workouts right on the platform. They'll be available for all Netflix plans, in 10 languages, with options across a broad range of workout lengths and intensities, offering something for every fitness level.
Nike is piloting the program with the following five series: Kickstart Fitness with the Basics, Two Weeks to a Stronger Core, Fall in Love with Vinyasa Yoga, HIT & Strength with Tara, and Feel-Good Fitness. The brand selected these top-performing programs from their platform because they're focused on enjoyment and are accessible for beginner-to intermediate athletes. Together, these series will feature over a dozen of Nike's world-class trainers, and will all require minimal-to-no equipment — meaning you can cue these up and take advantage even without an elaborate home gym.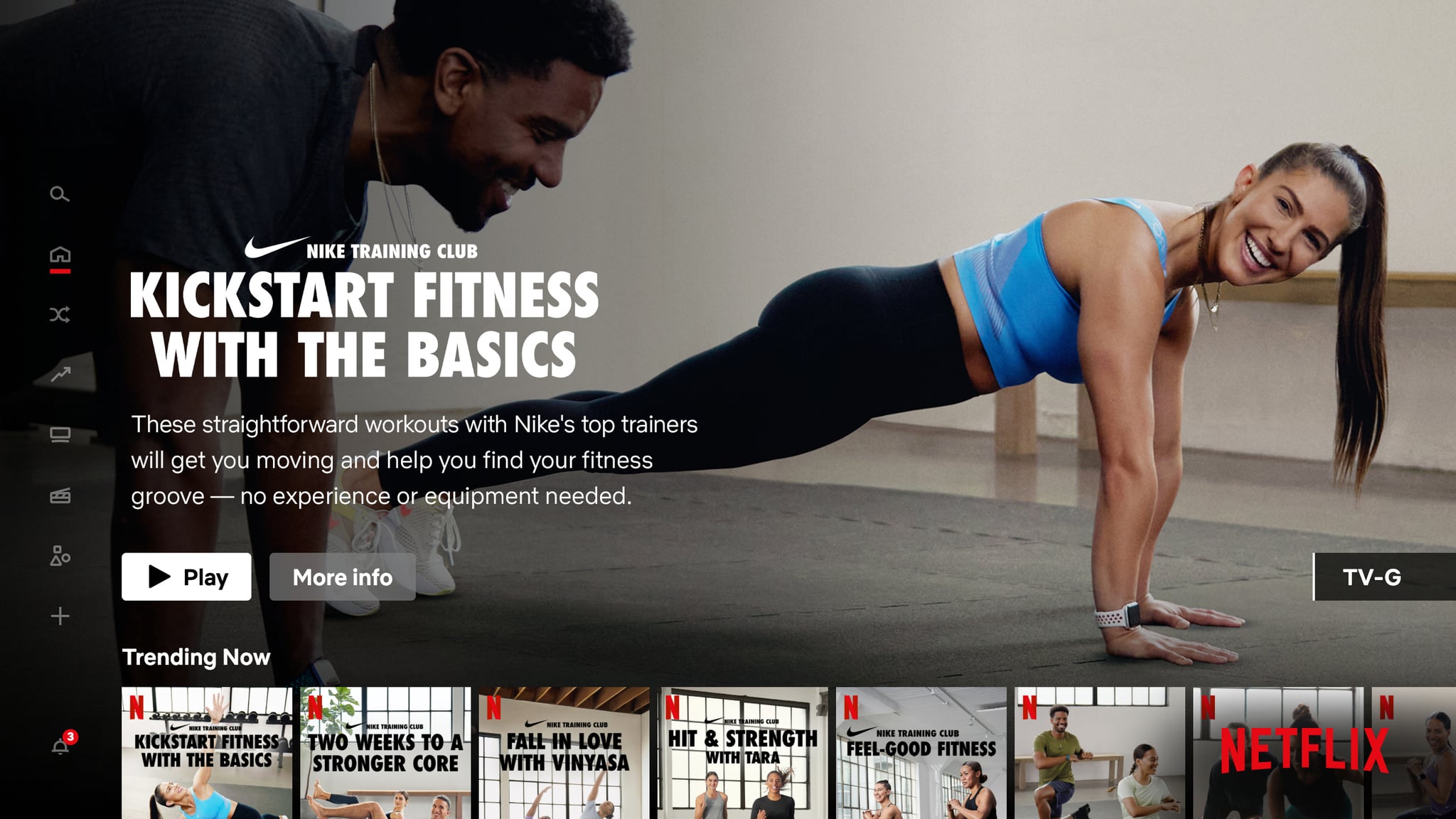 In case you haven't tried it yet, the Nike Training Club app is Nike's totally-free platform for guided workouts and comprehensive weeks-long workout programs led by trainers like Kirsty Godso and Tara Nicolas. They even have a Hottie Bootcamp with Megan Thee Stallion — which walks you through six different workouts led by Nike trainers featuring the Chief Hot Girl herself. In addition to workouts and plans, they also offer expert tips on nutrition, fitness, and recovery.
Netflix likely won't ever be able to replace your entire workout routine; however, by offering Nike workouts on such a huge platform that reaches more than 220 million households, both brands are helping to make fitness more accessible for all. We'll cheers to that!
Image Sources: Getty Images / Morsa Images and Courtesy of Nike